CLICK THE MONITOR LOGO ABOVE TO BE BROUGHT TO THE LATEST EDITION
Or contact us at (609) 406-7131; Monitor-Subscriptions@DioceseofTrenton.org.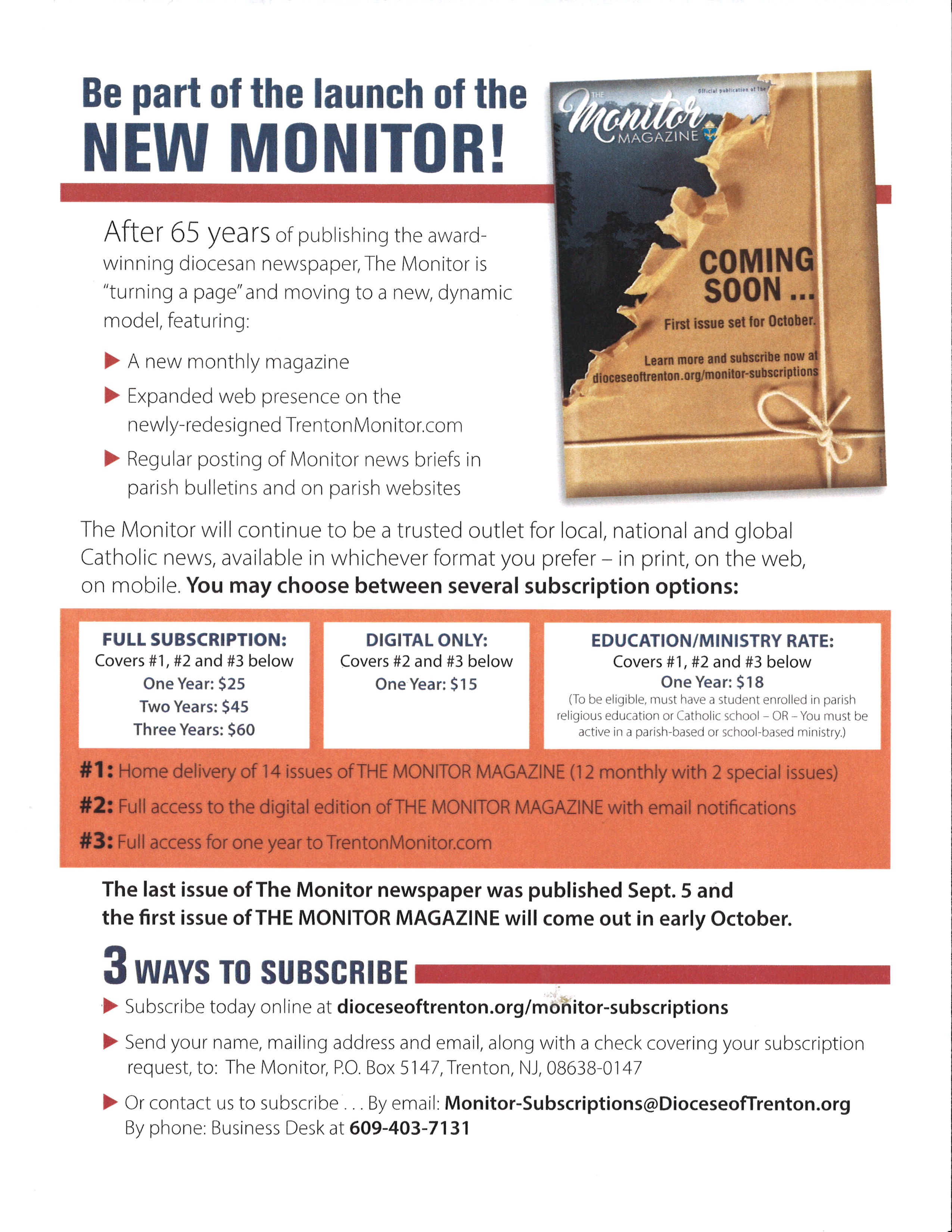 SUBSCRIBE TODAY! https://www.dioceseoftrenton.org/monitor-subscriptions
The LAST ISSUE of The Monitor newspaper has been published, and we are now gearing up for the INAUGURAL ISSUE of The Monitor Magazine set for October.  Here are some things to remember as this process moves forward:
1. When will The Monitor Magazine be published and how will it be distributed?
The Monitor Magazine will be published and mailed the first week of every month, beginning in October 2019. It will be distributed via home delivery to subscribers, and will be available in limited supply in churches and other locations.
2. What happens to paid newspaper subscriptions that were not yet up for renewal?
If you were a subscriber of The Monitor newspaper, and your renewal date had not yet come due, your subscription will automatically carry over to the magazine.  When the number of issues that you paid for nears an end, you will get a renewal notice.  The amount for the magazine is less than the newspaper, so you will see that difference reflected in the renewal bill. No paid subscription will lapse; there is nothing you have to do until your renewal comes due.
3. How and where can you subscribe?
There are a number of subscription options from which to choose.  You will find that information on TrentonMonitor.com  You may also write to use at MonitorSubscriptions@dioceseoftrenton.org, or call us at (609) 403-7131
4. How do you access your DIGITAL ONLY subscription?
All Digital subscribers will receive an email when the latest digital edition of the magazine is posted.    You also will want to set up a USER PROFILE on TrentonMonitor.com – click on SIGN IN on the right hand side of the home page in order to have unlimited access to our website content.  Your USER NAME is your SUBSCRIBER ID NUMBER, and your PASSWORD  is your ZIP CODE.
More questions?  Write to us at Monitor-Subscriptions@dioceseoftrenton.org and we'll be happy to assist you.