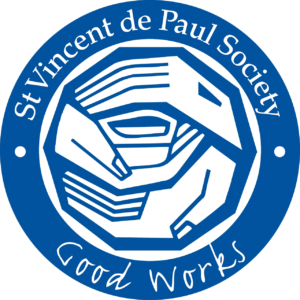 "Helping People Help Themselves"
St. Vincent de Paul Society: For Assistance:  732-929-1119.  Please note,  our Food Pantry is now combined with St. Joseph's Parish in Toms River.
 St. Vincent de Paul Society is in need of volunteers! For years, we did this great work through committed members of the St. Vincent de Paul Society. What are some of the works the Society does with your generous donations? For years we supported a food pantry here at the parish. A few years ago, we joined our food pantry with that of St. Joseph Church because they have a better facility. Many of our members continue to volunteer to staff the pantry and your donations of food and money support this necessary work. The Society helps those with back rent or housing bills in time of need; those facing financial difficulties with unpaid utility bills to prevent shut off. The Society provides referrals to other agencies, including free legal services if necessary. Provides help and shelter to the homeless in our area. Provide assistance at Thanksgiving and Christmas Meet once a month. Pray together!
As we have been announcing the last few weeks, many of the members who have been doing this good work for years are getting older and, although still willing to help, will need new members to continue this work. In the month of September, I will ask present members of the St. Vincent de Paul Society to come and answer any questions people may have regarding this work.
We ask that you prayerfully consider joining this important and necessary work of the Church. Please call the office and leave your name and contact information and we will get back to you.: 732-270-3980
Is God Calling You to this Ministry?