FRAUD ALERT

:

IMPORTANT NOTICE:  A few parishioners received a text 'from me' asking for help. 

 READ MORE……..
St. Vincent de Paul Society is God Calling You to This Ministry?
THE  MASS BOOK HAS MASSES AVAILABLE, CLICK HERE FOR INFORMATION ON HOW TO OBTAIN A MASS
DONATE TO UKRAINE ASSISTANCE RELIEF LINKS
For those who are unable to attend Mass in person, you can now view Mass from our parish on YouTube and Facebook each Sunday at 8:00am (You do not need to be a member of Facebook to view the Mass) CLICK HERE FOR THIS SUNDAY'S MASS  (Available 8am Sunday Mornings)

IMPORTANT UPDATE: NJ BISHOPS HAVE LIFTED THE DISPENSATION FOR SUNDAY MASS AND HOLY DAYS BEGINNING THE WEEKEND OF JUNE 5/6 2021 (CORPUS CHRISTI) Read Full Statement 5 20 21 Revised Statement of the Board of Bishops Lifting Dispensation from Mass
Answers to Key Ethical Questions About COVID-19 Vaccines From the Diocese & USCCB
Collections are vital to our existence as a Parish. If your circumstances permit, please consider donating to the parish at this time. I am thankful and grateful for your continued financial support during those challenging days to help us meet our weekly and monthly expenses. Many mail their contributions in and continue to do so. Here are some ways for you to help your parish: *Place your offering in the receptacles at the doors as you enter or leave church. *Mail in your envelopes weekly/monthly. *Have your bank send us weekly/monthly check automatically from your checking account made out to Saint Justin Church with your envelope number on the check to get proper credit . Thank you for giving the above some consideration to help support your parish financially, and know it is greatly appreciated!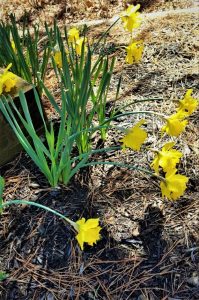 HOPE IN TROUBLED TIMES, We are in a dark period in our world and in our country in that we have been separated from Eucharist.  However, life will emerge again as nature shows us.  Things will come back to normal if we put our trust and faith in our Lord.  Historically people have turned to houses of worship during troubled times, however, this virus has kept us from receiving the gift of life, Jesus in the Eucharist.  Let us put our faith and trust in the Lord as we pray for all of those who have died, all of those who have been affected by this virus; whose lives have been disrupted during these difficult times.  We pray for all health care workers and all those working hard to combat the disease.  Please read 2 Chronicles 7:14 and Psalm 46.  Father Mark
MISSION STATEMENT: The goal of Saint Justin The Martyr Parish is that each member grow in the Grace through Jesus Christ, and in so doing cooperate with the Holy Spirit in giving glory to God, in experiencing the salvation of their soul, and in building up the Body of Christ