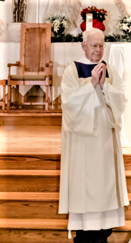 Deacon Richard Hauenstein:
January 9, 1932–November 17, 2019
Our parish community is saddened by the passing of Deacon Richard Hauenstein, on November 17, 2019.  May he rest peace and may he enjoy the rewards of a life well-lived in the service of God and His holy Catholic Church. 
PARISH TRIP TO ALASKA NORTHBOUND GLACIER CRUISE

WELCOME FROM OUR PASTOR

, 

Welcome to the website of Saint Justin the Martyr Roman Catholic Church. Saint Pope John XXIII stated that the mission of the Church is to show people how to pray, to bring them to contrition for their sins by showing them God's love and mercy, to feed them with the Eucharistic Bread and to bind them together with the bonds of charity.  This is our mission and goal at St. Justin Parish.

The truths of the Catholic Church are God's message entrusted to fallible human beings by God Himself through His Son Jesus Christ. Our task is to receive that message and contemplate it, appropriate it, explain it, defend it and then pass it on intact.

This process starts in a parish community. We are called to be witnesses to Christ. Our patron, Saint Justin, witnessed to Christ in many ways; even to the point of being martyred for the faith. Hopefully, none of us will be martyred for the faith, but we are called to witness in our everyday lives.

The Church exists for no other purpose than to draw people to Christ. We do this through our liturgies,

through faith formation and education, through our social outreach programs and through our social activities.

We hope you will join us in this effort and will be at home in our parish

. In the name of this community please let us know how we can help you, and in the name of God, please let us know how you can help us!

May God bless our efforts and all the members of our parish family. Please know of my prayers for you as we continue together in our faith journey seeking the face of Christ in all things!

In Christ,

Reverend Mark A. Kreder,

Pastor
MISSION STATEMENT: The goal of Saint Justin The Martyr Parish is that each member grow in the Grace through Jesus Christ, and in so doing cooperate with the Holy Spirit in giving glory to God, in experiencing the salvation of their soul, and in building up the Body of Christ.