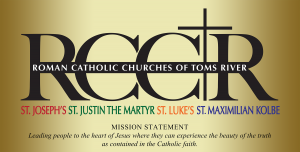 What is the RCCTR? Founded in 2015 as part of the "Faith in Our Future"  initiative of the Diocese of Trenton (Cohort 24), the Roman Catholic Churches of Toms River  (RCCTR) is comprised of leaders and clergy from the four Roman Catholic parishes in Toms River: St. Joseph's, St. Justin the Martyr, St. Luke's and St. Maximilian Kolbe. These four parishes serve more than 20,000 registered Catholic families in Toms River, and collaborate to find ways to strengthen our parishes, explore new models of leadership, evangelize, improve Hispanic ministry and expand opportunities for greater efficiency and better stewardship. This collaboration is key to bring greater depth and breadth of services to the community. The mission statement of the RCCTR is, "Leading people to the heart of Jesus where they can experience the beauty of the truth as contained in the Catholic faith."
Visit the websites of the RCCTR.  Our fellow cohort parish websites are listed below.
EVENTS
Past Event:  September 15, 2021: The RCCTR are supporting five educational sessions conducted by Fr. Edward Reading, to spread awareness and share resources for National Recovery Month in September and October.  Sessions will be held at St. Luke's. To View the Flyer: RCCTR National Recovery Month Events flyer For complete information please visit: https://stlukestomsriver.org/national-recovery-month/
AT ST. JOSEPH'S : Our next semester of That Man is You! Fall 2021
PLEASE CHECK WITH THE INDIVIDUAL PARISHES REGARDING UPDATED INFORMATION AS TO WHEN/IF THEIR INDIVIDUAL GROUPS WILL START AGAIN. BEREAVEMENT GROUP INFORMATION  AT ALL FOUR PARISHES CAN BE VIEWED HERE:RCCTR-BereavementLiveLinks
PAST EVENT: On Sunday October 4th, 2020 from 1:30 to 2:30 PM, we will be having our annual Life Chain. Please meet at the Route 37 West entrance to Winding River Park Toms River . It is directly across the street from Community Hospital. Please wear a mask and if you need to you can bring a chair. Signs will be provided. For more info contact  Ed Di Marco at 732-341-9029
PAST EVENT: SATURDAY, SEPTEMBER 12, 2020: A Prayer Service will be held at the Tomb of the 100 Aborted Loveladies Babies—Join the Roman Catholic Churches of Toms River (RCCTR) Pro-Life Cohort Saturday Sept. 12, 2020, at 10:30am —Ocean County Memorial Park 1722 Silverton Rd. Toms River, NJ   Bring: Chair, 1 Rose, Mask, Rosary. The morning consists of Opening Prayer, History, Pro-Life Rosary, Divine Mercy Chaplet  Contact: Patti 732-678-7367
PAST EVENT: At St. Joseph's:  January 25, 2020 begins our next semester of That Man is You! (TMIY). This a perfect time for you to join us as St. Joseph's Parish hosts this popular nation-wide program geared to encourage and support catholic men in living out God's awesome call to be better fathers, husbands and leaders in society. It is an incredible opportunity to be around other men who are motivated to answer this amazing responsibility and discuss meaningful topics that go beyond the sometimes mundane and ordinary discussions had in our daily interactions. Join us at Donovan Catholic High School Cafeteria, 711 Hooper Ave, Toms River NJ on Saturday Mornings from 6:00 am to 7:30 am (Coffee/Breakfast is served and there is no charge for this program). For more info, contact Adriano Parga at 856-485-0370 or TMIYstjoseph@gmail.com. Follow us on Twitter @SJTMIY and Instagram sjtimy
PAST EVENT: At St. Joseph's: The Knights of Columbus will be sponsoring a Respect Life Night at St Joseph's RCC on Wednesday, January 22, 2020, at 7 PM. All are invited to attend. It also open to all parishioners of all parishes in our cohort and anyone else who would like to attend. There will be a bilingual Chaplet of Divine Mercy, Glorious Rosary, followed by the Holy Sacrifice of the Mass."
PAST EVENT: St. Luke Roman Catholic Church, 1674 Old Freehold Rd, Toms River, NJ.,
Cordially Invites you to the Sixth Annual Celebration for All Healthcare Professionals Sunday, October 20, 2019 at 2:00pm. Traditionally called a "White Mass", this is a special Mass held for physicians, nurses, healthcare workers and their families & friends. Healthcare workers of all faiths are welcome! Reception to follow after Mass.
RSVP: https://www.eventbrite.com/e/6th-annual-healthcare-professionals-mass-and-reception-102019-tickets-73693654705.
Past Event: Open-House event Thursday October 3, 2019 at St. Luke's: The Roman Catholic Churches of Toms River (RCCTR) in conjunction with the Mental Health Association in New Jersey (MHA) and the National Council on Alcoholism and Drug Dependence (NCADD-NJ), is proud to present an educational community forum focused on helping others achieve wellness and recovery from alcoholism and substance abuse. This open-house event will be held on Thursday, 10/3/19 at St. Luke Parish Center (1674 Old Freehold Rd., Toms River) from 6:00 – 9:00 pm. The forum is designed to educate the community.  It is free and open to the public and refreshments will be served. There will be many information tables at the event. Please register at: http://bit.ly/missinglinkforum
PAST EVENT:  The RCCTR will have a booth at the "Around The World in TR: A Celebration of Culture and Heritage" on Monday, September 2nd from 12-4pm at Huddy Park in Toms River. Please stop by and say hello!
PAST EVENT: Memorial Mass at the Tomb of the 100 Aborted Loveladies Babies Please Join the Roman Catholic Churches of Toms River (RCCTR) and Ocean County Right to Life Saturday September 7, 2019.Where: Ocean County Memorial Park, Silverton Rd. Toms River, NJ (take Church Road. west to Silverton Rd.)Arrival Time: 10am—bring a chair. The morning consists of Mass, History of Site, Flower Ceremony. Rev. Denis Wilde, O.S.A., Priests For Life, will be the homilist for the Mass.
In 1984, one hundred aborted babies were found in a trash can in the Loveladies section of Long Beach Island. Members of Ocean County Right to Life went to court and were instrumental in obtaining permission to bury the babies in l985 at Ocean County Memorial Park. For further info contact
Patti Tardi: 732-678-7367   Jeremiah 1:5—"Before I formed you in the womb, I knew you."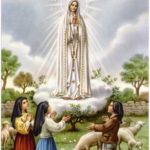 Past Event: Rosary Rally at St. Maximillian Kolbe-October 12, 2019, honoring the 102 Anniversary of Fatima's Miracle of the Sun.  Celebration of Mass at 8:00am, Rosary Rally at 9:15am, refreshments to following the parish hall.
PAST EVENTS: Rosaries on the Boardwalk:The Respect Life Cohort of Roman Catholic Churches of Toms River will be holding a
Rosary for the Unborn in Seaside Heights, Friday August 23rd
Please meet at Grant Ave. and the Boardwalk to pray the Rosary for the unborn and their parents. For More Information Contact Mario at 732-557-6689

The Respect Life Cohort of Saint Lukes, Saint Josephs, Saint Justins and Saint Maxmillion Kolbe will we praying a "Rosary for Life" on Friday July 26th from 10 AM to 11 PM. We will meet at Grant Ave. and the Boardwalk in Seaside Heights. Please join us as we pray for our families, our country, its leaders, and the pro life agenda.
"To pray the Rosary is to hand over our burdens to the merciful hearts of Christ and His mother." Pope John Paul ll

The Respect Life Cohort of Roman Catholic Churches of Toms River will be holding a Rosary for the Unborn in Seaside Heights, Friday June 28th 10 AM to 11 AM. Please meet at Grant Ave. and the Boardwalk to pray the Rosary for the unborn and their parents. For more info contact Betty Sweeney at 732-270-1972 or Mario at 732-557-6689
The Respect LifeCohort of Roman Catholic Churches of Toms River (RCCTR) will be holding a Rosary for the Unborn on Friday, May 24th 12-1PM. Please meet in the front of Ocean County Library located on Washington St. Toms River, to pray the Rosary for the unborn and their parents. For More Information Contact Mario at 732-557-6689. or Betty Sweeney 732-270-1972
The Respect Life Cohort of Roman Catholic Churches of Toms River will be holding a Rosary for the Unborn on Friday April 26th, 12 Noon to 1 PM. Please meet at the front of Ocean County Library Toms River to pray the Rosary for the unborn and their parents. For More Information Contact Mario at 732-557-6689