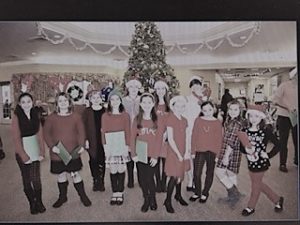 Do you have a love of singing for the Lord?   
Do you feel God is calling you to this ministry? "HE WHO SINGS, PRAYS TWICE" AUGUSTINE
Lend us your voice and become a part of  ST. JUSTIN'S  ADULT OR CHILDREN'S CHOIRS NO EXPERIENCE NECESSARY! REQUIREMENT: A LOVE OF SINGING FOR THE LORD!
For further information, please contact Angela at: 732-797-0978 or email at:  Music@stjustin.org  
Children's Choir generally sings at 9am Mass; 4:30pm Ash Wednesday Service on February 14, 2018, and 7:00pm Holy Thursday Last Supper Mass on March 29, 2018.
The Adult Choir Schedule listed below  may be subject to change, please contact Angela for any updates.
Adult Choir Schedule May to Dec 2018
St. Justin Music Ministry Mission Statement: WE ARE CALLED:*TO connect people to each other and to God, through the gift of music,*TO glorify God through a unique ministry of music, which draws people into a new and deeper relationship with Him,*TO be faithful stewards of St. Justin, accountable to God for responsibly sharing our time, talents and treasures,*TO build our lives in the image of Christ through worship, prayer and song!
ST. JUSTIN'S CHILDREN'S CHOIR —--sings at the 9am Sunday Mass; Generally Practices — Mondays 5:45pm—6:45pm
ST. JUSTIN'S ADULT CHOIR—– Rotating Schedule; Generally Practices– on Tuesdays  5:45pm—7:30pm