Masses for The Immaculate Conception of the Blessed Virgin Mary  ('The Immaculate Conception' Patroness of the USA) Are as follows: Monday, December 7th at  5:00 pm; Tuesday, December 8th at 8:00 am, 12 noon, 7:00 pm
Daily Mass will be at 8:00am, Monday thru Thursday only.   
SUNDAY MASS SCHEDULE STARTING THE WEEKEND OF JUNE 13/14 IS AS FOLLOWS: Saturday Vigil Mass 5:00pm–Sunday: 8:00am, 10:00am, 12Noon. Masses will be in the parish hall so that we can observe all the guidelines,  Please Read full directives for the  guidelines on Re-Entering Our Church.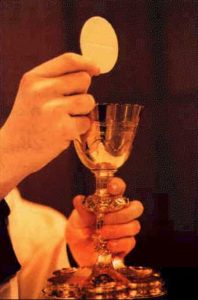 Weekend Masses:
Saturday Vigil: 5:00pm
Sunday: 8:00am; 10:00am; 12Noon
Holy Days: As Announced
Guidelines for the Sacrament of Reconciliation:-The sacrament will be available again beginning Saturday, June 20, 2020 at the regular time of 3:30 p.m.
-The sacrament will not be offered in the church as was the norm before the virus pandemic. Instead, those seeking the sacrament will utilize the two doors on the RE building side of the church. The penitent will walk up to one of the doors and knock and the priest will open the door and hear the confession. The penitent and the priest must both be wearing face masks and practicing social distancing of 6 feet.
-Those waiting in line must also wear masks and distance themselves 6 feet from the next person in line. The line will begin where the asphalt meets the grass and wrap around to the parking lot side of the church.
-The penitent will keep in mind that their confession will be as brief as possible. Confession, as it has in the past, is not the time to seek counsel; Confession is not a therapy session. Confession, in simple terms, is confessing ones sins, the priest may give some brief comments then the penitent receives the penance, then Act of Contrition and Absolution.
**Missing Sunday Mass and Holy Days of Obligation is still under a dispensation until September 7, 2020, so there is no need to confess missing Mass.
-Weather permitting.
-These guidelines are in place until further advised.