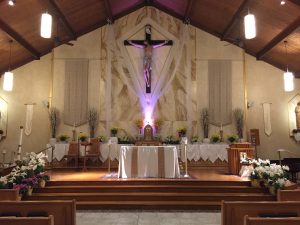 Have you ever wondered what the Mass was all about or what does it really mean?
Well, coming in late September we will try to answer those and other questions you may have on the Mass. We will walk through the Mass with Bishop Robert
Barron (Auxiliary Bishop of Los Angeles) and be transformed through the insights on this most privileged and intimate encounter with our savior, Jesus Christ.
We will see how the Mass brings us into the heavenly realm and how we are joined to Christ himself through this encounter at the Mass. At the end we will wonder why so many of our Catholic brothers and sisters stay away when we encounter Christ in such a special and privileged way. Join me in this journey through the Mass with Bishop Barron. We will offer two different days to help accommodate your schedule. Wednesdays, 10:00 am-12:00 pm, September 25-November 6
Or
Thursdays, 7:00 pm-9:00 pm,
September 26-November 14*with October 10 off.
The cost of the study guide is $22.00. We will order itfor you, and you will receive it at the first class.
The deadline to register is Monday, September 9th: 
Downloadable Registration Form For The Mass Study Program
Bishop Robert Barron's Newest Study Program THE MASS
Won't you come join me as we encounter Heaven on Earth in the beauty of the Mass? Fr. Dan Price