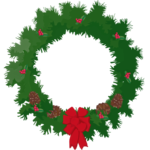 Basilica Christmas Carol Sing at the Cathedral Basilica of the Sacred Heart
Newark, New Jersey
St. Justin's will be running a bus trip on Thursday, December 12, 2019 to one of the most significant Christmas concerts in northern New Jersey. The ambiance of candlelight and season décor, along with the Cathedral Choir, organ, brass, percussion, and thousands of participants combine to create an event that must be experienced.
The cost is $25.00 per person which will cover the cost of the bus. There is a free-will offering at the Cathedral and entry is on a first come basis. The bus will be departing from St. Justin's at 5:15 pm and we should arrive at the Cathedral by 7:00pm. Please keep in mind that you may need to wait on line for an hour. The Cathedral will not permit anyone to save spots in line and we cannot reserve seats. The concert should start around 8:00 pm. We will depart from the Cathedral at approximately 9:30 pm and should arrive back to St. Justin's by 11:00 pm depending on weather and traffic.
There are only 54 seats on the bus so please come to the parish office to sign up as soon as possible. Payment needs to be received at the time of sign up.