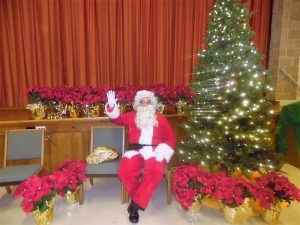 "WE'RE DOING OUR CHRISTMAS SHOPPING AT ST. JUSTIN'S THIS YEAR…"
ST. JUSTIN'S ANNUAL CHRISTMAS BAZAAR
SATURDAY, DECEMBER 1st—3:30 TO 6:30 AND
SUNDAY, DECEMBER 2nd— 8:30 TO 1:30
OUR PARISH MINISTRIES WILL BE HOSTING TABLES FILLED WITH WONDERFUL
CHRISTMAS ITEMS TO PURCHASE; COME BROWSE TO THE SOUNDS OF CHRISTMAS MUSIC, ENJOY HOT CHOCOLATE, COFFEE, TEA & PASTRIES WHILE YOU SHOP, SANTA WILL BE JOINING US! CHILDREN CAN MAKE "REINDEER FOOD" AND OTHER CRAFTS, 
If you would like to volunteer for the event (one hour time slots) please call the Parish Office and leave your name and telephone number. Confirmation candidates will be available to help with games, crafts, and help our children to shop for gifts "secret Santa".