Dear Brothers and Sisters in Christ – the SJM Parish family, Happy Easter!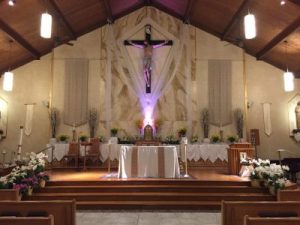 How I sorely miss all of you!  Please be assured that you are in my prayers; and please pray for us. Years ago, in an Epiphany homily, I said that – in some countries, a special blessing was given at the end of Christmastime to all who, because of the brutal winter weather, would not gather as 'church' again or receive Holy Communion – until the Spring thaw!  I never imagined, in my wildest dreams, that this would be the case for us … because of a pandemic virus.  I MISS: celebrating holy Mass with you; standing at the door to greet and chat with you; hearing your stories; sharing your joys and sorrows.
 While we are unable to be together in our 'parish home' at this time, please make every effort to 'tune in' to every Rite you can – especially Sunday Mass – via the blessing of modern communication.  Since our Parish is not able to broadcast events 'live' as required by diocesan policy, and – to be honest – I would find it even more painful to 'half-celebrate' them with all the restrictions placed on what are usually spectacular communal events,  I am sure many of you have already found lived streamed events. However, I recommend that you follow our Bishop's Masses during this time which can be accessed on the diocesan website: www.dioceseoftrenton.org. Our Bishop is an excellent homilist and it is a great way to stay in touch with our spiritual shepherd. Also log on to the free resource FORMED and keep abreast of all Parish events via our website: www.stjustin.org, and our Parish Facebook page (I personally am not on Facebook and have no desire to do so.) 
 What a different twist this pandemic has given to the words proclaimed every Good Friday: "Who would believe what we have heard?"  [First Reading: Isaiah 53:1a] and "Son though he was, he learned obedience from what he suffered; and when he was made perfect, he became the source of eternal salvation for all who obey him."  [Second Reading: Hebrews 5:8-9]  Who would believe that we would have no public Holy Week events?  That so many special events would be cancelled or postponed?  That our economy, our everyday life, our EVERYTHING, would be turned upside down?  That a Pope would offer prayers in an empty Saint Peter's Square?  That, in some places, church activities would be limited or even forbidden to protect lives, while our State would allow abortion clinics, which destroy lives, to remain open?  Shouldn't those medical facilities, personnel and supplies being used to abort lives be used where we are told they are so desperately needed: to combat the Coronavirus and save the lives of those who contracted it and those who risk their lives to attend to the sick and the dying?   What a world; however …
Our Christian Faith assures us: God always wins in the end, and that every discipline – even being 'quarantined' – can be beneficial to those who seek the presence of God, even in what seems so ungodly.  This is the joy-filled, hope-filled message of Easter!  And while the pain and sorrow that comes from every cross we must carry is very real, as an Easter people, we can bring light into darkness, joy into sorrow, by proclaiming Jesus "who died, rather, was raised, who also is at the right hand of God, who indeed intercedes for us." [Romans 8:34] along with His Mother; our Patron, Saint Justin the Martyr; and all the Angels and Saints!  Let us all say: "alleluia, Alleluia, ALLELUIA!" 
In all seriousness: these are challenging times for all of us. This crisis has hit many of us hard and our parish is no different. I am most grateful to all who have continued to mail in or drop off their weekly offerings so we can pay all bills on time. Thanks, too, to those who have also pledged or made payments to the Bishop's Annual Appeal.  The Diocese of Trenton has set up on-line giving for all the parishes in the Diocese. Our website can walk you through on-line giving. If your circumstances permit, please consider donating to the parish at this time.
Unfortunately, our church is now closed for private prayer and devotion. This was a painful decision for our Bishop who made this decision at the suggestion of the New Jersey Health Commissioner.  While the church "building" is closed, the church is not closed. We, the people, are the Church and at Baptism, we are charged with keeping the flame of faith alive in our hearts.
Father Dan and I have offered private Mass each day for the requested Mass intentions; the Bishop granted us permission to celebrate one private Sunday Mass for all of that weekend's intentions.  We will continue to do this for all scheduled Masses. Father Dan is visiting his parents in West Virginia and he is celebrating Mass in the home each day.
The date for the resumption of the Sacrament of Reconciliation [Penance or Confession] will be announced when known; if the opportunity to attend holy Mass and/or receive Holy Communion arises before you can get to Confession, the Church permits those normally able to receive Eucharist by first making an Act of Contrition and getting to Confession as soon as humanly possible.  Baptisms will be rescheduled at a mutually agreeable time with each family. As of now, we cannot give dates and times for First Holy Communions and Confirmation since we do not know when we will be able to gather as groups and reopen the Church.
Like the woman at the tomb on that first Easter morning, many are wondering, "Who will roll back the stone for us …? [Cf. Mark 16:3] and when will we, like Lazarus, whom Jesus raised from the dead, be unbound and set free from our burial bands?  [Cf. John 11:45]  May we have the faith, hope and love to patiently await that glorious day when we will be gathered together again in one place: our beloved 'parish home.' 
Of all the things we can do, we Catholic Christians can – and must PRAY: pray for those who have died; pray for those who are sick; pray for the medical professional and first responders who risk their lives to save others; pray for those who suffer in any way from this crisis.  Pray for those seeking to find a cure for this and all other diseases. Pray for all essential workers and for those who are suddenly unemployed. Pray for parents working from home while juggling teaching their children, who are also home. Pray for our president, governor and mayor and all leaders of nations trying to do the right thing. Pray for us priests alone in our churches without our parishioners. Pray for Pope Francis and Bishop O'Connell and all bishops who are trying to be good shepherds and good citizens as well. Pray for a continued generosity of spirit from those who have resources to share. Finally pray for a quick end to the spread of the virus, a vaccine and a full economic recovery.
Father Dan, the deacons, the staff and I extend our prayers and best wishes to you and your families for a Blessed and Holy Easter season!  God bless you all!                        In Christ, Father Mark