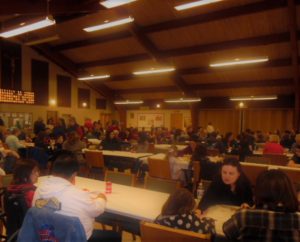 Friday, September 29, 2017, Parish Hall
Doors Open & Food Served at 5:30pm
Games at 6:00pm Dessert at 7:00pm
Cost: $5.00 per family, which includes bingo cards and dessert. (A package of 10 additional boards can be purchased for $5.00 each at the night of the event) Hot Dogs must be preordered and paid in advance for $1.00/hot dog. Soda and water can be purchased that night. THIS IS A FAMILY NIGHT
THEREFORE ALL CHILDREN MUST BE ACCOMPANIED BY AN ADULT. Deadline for registration is 9/25/17. Registration forms are available in the narthex DOWNLOADABLE FLYER: Bingo Night Flyer Sept. 29, 2017  Drop off forms/checks in an envelope marked Family Bingo Night to the Parish Office, tickets will be given at the door. For Further Info call: Sue Keogh 908-591-4271 or the Parish Office.