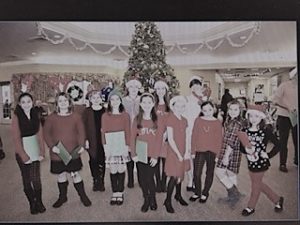 Do you have a love of singing for the Lord?   
Do you feel God is calling you to this ministry? "HE WHO SINGS, PRAYS TWICE" AUGUSTINE
Lend us your voice and become a part of  ST. JUSTIN'S  ADULT OR CHILDREN'S CHOIRS
NO EXPERIENCE NECESSARY! REQUIREMENT: A LOVE OF SINGING FOR THE LORD!
For further information, please contact Angela at: 732-797-0978 or email at:  Music@stjustin.org  
ADULT AND CHILDREN'S CHOIR SCHEDULES SEPTEMBER THRU DECEMBER 2017
Adult Choir Schedule January to June 2018
St. Justin Music Ministry Mission Statement
WE ARE CALLED:
*TO connect people to each other and to God, through the gift of music,
*TO glorify God through a unique ministry of music, which draws people into a new and deeper relationship with Him,
*TO be faithful stewards of St. Justin, accountable to God for responsibly sharing our time, talents and treasures,
*TO build our lives in the image of Christ through worship, prayer and song!
ST. JUSTIN'S CHILDREN'S CHOIR —--sings at the 9am Sunday Mass
Practices — Mondays 5:45pm—6:45pm
ST. JUSTIN'S ADULT CHOIR—– Rotating Schedule Starting in September
Practices– on Tuesdays  5:45pm—7:30pm