TAKE ME OUT TO THE BALLGAME!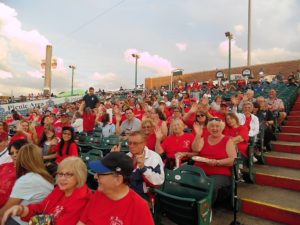 St. Justin's 7th Annual Parish Night
at the BLUE CLAWS GAME
August 21st (Faith and Family Night)
Time: 7:05pm; Cost $10/ticket
(if purchased at the gate $13–
Save $3 person)
This night is also Silver Sluggers Tuesday:
Seniors 60+ eat free.  (vouchers will be handed out at gate behind home plate at the game); Children 12 and under receive a voucher for a free meal at the time of ticket purchase! Bring it to the game, cannot be replaced if forgotten or lost. Altar Servers and Youth Group members will receive a free ticket and a complimentary ticket for one parent/guardian to attend with them. Tickets can be purchased at the Parish Office during regular business hours and after all Masses the weekend of: June 30/July 1, July 21/22/ August 18/19. Flyers are available in the narthex & downloadable here: Blue Claws Flyer  If you cannot attend the game but would like to sponsor a family, call the Parish Office.